Upcoming Events
Winner of Logo competition along with departmental officials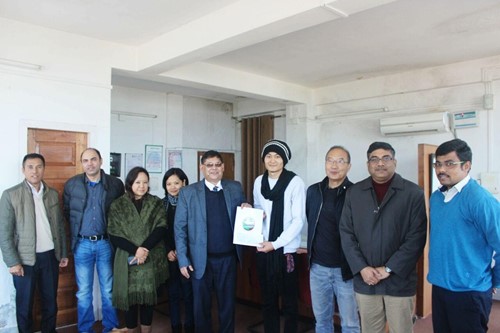 Following activities are proposed to be taken up in the current Year (List is indicative only )
Being preparatory phase primarily it all the activities, which are required for the effective implementation of the NFMP at field level. During this phase, following activities shall be undertaken:
Registration of Project Society
Formation of Governing Body
Formation of High Power Committee
Formation of Project Management Unit (PMU)
Formation of District Advisory Committee (DAC)
Formation of District Management Unit (DMU)
Selection of Project Management Consultants (PMC)
Deputation of staff to PMU
Formulation of Operations Manuals
Preparation of Procurement Manuals
Preparation of Micro-planning Manuals
Setting up of the Field Management Units (FMU)
Hiring of contractual staff at PMU/DMU/FMU
Selection of NGOs at District Level
Establishment of GIS Cell at PMU
Remote sensing and GIS based mapping of all Districts of Nagaland for (a) Forest Cover and (b) Jhum intensity
Complete Micro planning exercises
Finalization of target villages for the Batch 1
Nursery Establishment
Formation of SHGs
Formation of JFMCs
Creation of infrastructure for DMU (2 No.) and FMU (18 No.)
Creation of staff quarters at DMU & FMU
Capacity building programs for (a) Forestry staff and (b) JFMC members
Conducting a bamboo scoping study
The following activities are proposed for institutional strengthening:
Repair, maintenance and construction of buildings wherever necessary

Procurement of office equipment, furniture and fixtures, computers, laptops, vehicles, etc. for PMU, DMU and FMU, will be made as per the JICA procurement guidelines and manuals prepared during the preparatory phase.

Four wheel drive vehicles as per project requirement.

Procurement of survey tools like GPS, smartphones or tablets, and accurate compasses

The existing GIS facilities of the Nagaland Forest Department would be augmented with the procurement of additional workstations, upgraded software and other equipment like plotters, printers, etc. GIS database would be upgraded for project planning and monitoring.

Building capacities of the personnel involved in the project at different levels

Study tours with a mix of classroom session and field exposure would be planned for select staff posted at the DMU/FMU level to pertinent projects/ institutions/ organisations within the state, to other locations in the north eastern region and to other locations in the country.
Past Events
A cluster based approach will limit implementation in about 22 forest ranges (2-3 ranges for Division) in the eleven forest divisions. Within each range cluster of villages would be identified on a pre-determined objective criteria. Each cluster would comprise of 2-4 villages. The rationale for village clusters will result in better value for money for:
Ecological impact at scale with positive implications of ecosystem services (viz. watershed and biodiversity services) particularly for forest and biodiversity-conservation based interventions.
Collective awareness and capacity building, better knowledge sharing
Effective convergence around all project interventions.
Streamlining project implementation and support infrastructure