FY 2019-20
1. Orientation: A training program for the newly recruited support staffs of DMUs under Southern Territorial Circle (STC) viz. Kohima, Dimapur, Phek, Wokha, Peren, was conducted on 13 November 2019 and for DMUs under Northern Territorial Circle (NTC) viz. Mon, Tuensang, Longleng, Kiphire, Mokokchung and Zunheboto  was held on 19th November 2019 at NFMP Office Kohima.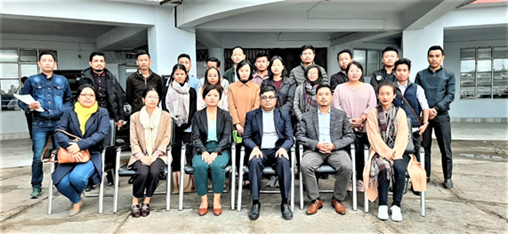 Orientation of STC Support Staffs by PMC on 13th  November 2019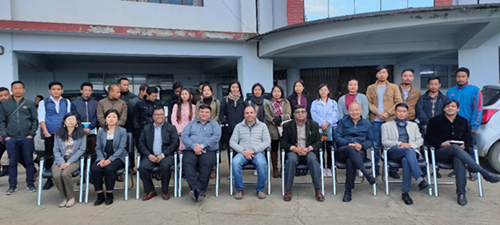 Orientation of NTC Support staffs by PMC on 19th  november 2019
2. Interactive workshop with PMC for DMUs and FMUs organised by PMU:     PMU organised an "Interactive Workshop for DMU's and FMU's with PMC" on 12th December 2019 at the Conference Hall of Forest office Complex Kohima. At the outset Shri. Dharmendra Prakash IFS, Chief Project Director NFMP welcomed all the participants. Opening remark was given by Shri A.K. Bansal, Advisor for NFMP and said that since this is the first effort of this type under a JICA project, process documentation is necessary for replication in other areas - detailing the planning process, inputs from the community, implementation methods, outputs and outcomes, and also that the works done need to be documented in writing with data and photos (Geotagged). Mr.Vasu Mitra Arora, Team Leader, PMC shared his experience with the visit to Batch-I villages and pointed out some shortcomings and also gave suggestions for improvement. Mr.Anurag Gupta emphasised the need to follow a standard procedure and need to maintain MPR. MIS need to be developed not only for NFMP but also for forest department as a whole. So for two formats (JFMC &SHG profiles) have been developed. MIS System to be in three phases: phase I to be paper based, phase 2 web based and phase 3 will be mobile app based. DMU should arrange MPR filling of formats and send it back to PMU. The Formats for progress of nursery activities under development would soon be circulated.
Review of all DMUs on current status of implementation of various activities in the field was taken by Shri. Vedpal Singh IFS Project Director (I,M&E)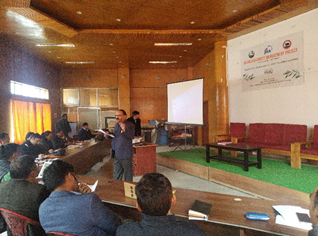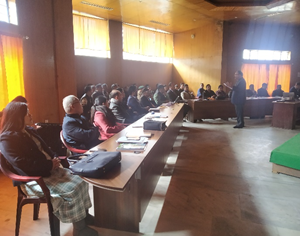 3. "Interactive Workshop:
"An Interactive Workshop with PMC for DMU's and FMU's" was organized by the PMU at the Conference Hall of the Forest Office Complex at 11 am on 15th January 2020. The Chief Project Director Shri.Dharmendra Prakash IFS delivered the Introductory speech and welcomed all the participants of the DMU and FMU participants. Shri.Pravanjan Mohapatra (Capacity Building Expert-PMC) gave a powerpoint presentation of  (Draft)Manual on Joint Forest Management Committee (JFMC), followed by an interaction session. A powerpoint presentation on Nursery Register was presented by Shri. Anurag Verma (PMC Team). Shri. Supongnukshi IFS, Project Director (HRD) gave a powerpoint presentation on Jhum/Shifting Cultivation in Nagaland. The PMC and PMU Officials had an interactive session with the DMU and FMU heads in the later part of the program.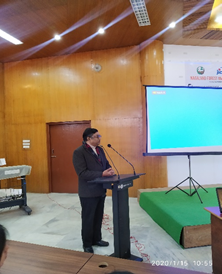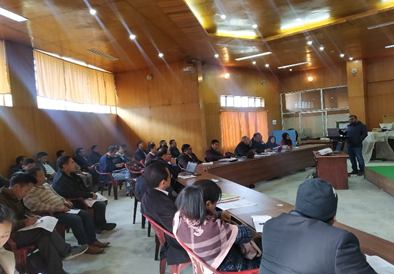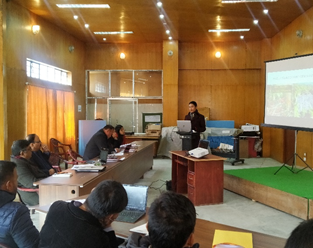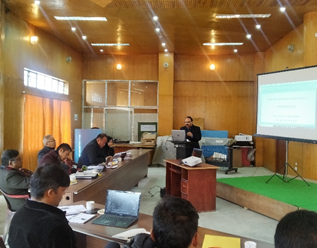 4. Accounts Training:
 A"Training on Accounting Procedures and GPS Hands on" was organized by the PMU at the PMU Office, Forest Office Complex on 21st January 2020. Shri. Meyipokyim Aier Project Director (AFP) delivered the introductory speech and gave a brief deliberation on matters relating to accounts of NFMP. The training on Accounting and Office Accounts Procedures was given by Neichuno Mor, Accounts Manager (PMU Support Staff) and Vizono Kintso, Accounts Assistant (PMU Support Staff).